Stories
Six Storylines from The Olympics Being Postponed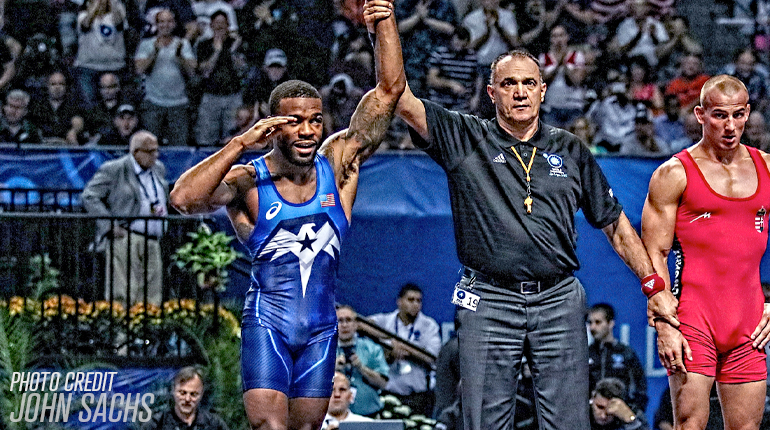 I know there are more than 5 implications and storylines from the postponment of the Olympics, but as I've said on the podcast before, I tend to focus on the storylines that affect those around me. I'm sure over the coming weeks and months, more will come to light and I'm happy to discuss those, too, but for now, here are some thoughts on storylines.


The Olympic Redshirts

One of the first things I thought about was the guys who took Olympic Redshirts. Guys like Yianni D and Daton Fix. Now, without having an NCAA Championship this year, I'm not sure they regret taking the Olympic Redshirt, but they also just took that redshirt in vein to some degree. These guys wanted to take a red-shirt for a reason - to focus on the Olympics. It certainly wasn't to just "get better" like with a standard red-shirt year. It will be interesting to see how the NCAA and the IOC handles Olympic Redshirts. I'm not sure there's much they can do.
Some will say it's unfair, I'm sure, as they are saying with the NCAA - who is unlikely to give seniors another year of eligibility. But, much as is this case with the NCAA eligibility, some of these seniors don't want it, and I suspect even if offered another Olympic Redshirt, they wouldn't take one. It just is what it is.


The "Old Guys"

Jordan's my guy. And, he's already confirmed he's not going anywhere until at least 2021, but in a sport dubbed a "young man's sport", you have to wonder what the one year postponement will mean for guys like Jordan, who are in their 30's. Jordan's interesting too because he's not only the oldest returning World Team Member, he's also the only Olympic Trials Qualifier who competed in the 2012 and 2016 Olympic Trials as well.
Jordan's a special breed, and I'm not sure the postponement affects him that much, but for the rest of the guys getting up in "wrestling age," you have to wonder what this postponement will mean for them both physically and mentally.
The Final Year Guys

Speaking of "the old guys," the longer you follow this sport, the more you start to see trends. One of those trends is guys retiring at the Olympic Trials. Most wrestlers have their heart set on and planning around Olympic quads. You definitely have the guys who push it one or two years past an Olympic year, but many guys frame out their careers around the Olympics. With the Olympics now one more year a way, you have to wonder if all of soon-to-retire guys will stick out one more year like Jordan.
A big tradition in the wrestling world is to leave your shoes on the mat after your final match. Without any competitions anytime soon, anybody who would chose to retire now, wouldn't have that moment. Do they go another year now? I guess we'll find out over the coming weeks & months.


The Injured Guys

There are some guys that are definitely excited about the Olympics being postponed. Reigning NCAA Champion Anthony Cassar was set to have surgery last week and be out 6-8 months. With the Olympic postponement, that may give him enough time to compete in the trials next year. As of now, he'd likely return sometime in Q4 of 2020 with the Trials in Q2 of 2021. And, there are others. NCAA Champion Nico Megaludis was another guy whose injuries forced him out of the Olympic Trials. With the postponement, a Nico appearance at the Trials is all but guaranteed.
There are others who just came back from an injury like Anthony Ashnault and Jason Nolf. This delay simply gives guys like them a little bit longer to heal up.


Brand Deals

It's going to be interesting to see how brand deals work out. Olympians are sponsored typically the year leading up to the Olympics. Do those deals get pushed out for one more year? My guess would be they do, at a discount. But, even the smaller deals for Olympic Hopefuls are impacted here. Apparel companies were all hoping their Olympic Hopefuls would make the team and they'd see a nice boost in sales. Most companies also had a ton of "2020" apparel. That's all but useless now.
You wonder, too, for the guys just out of college who would normally get a nice deal, how that will play out. Some of the guys now aren't competing for a minimum of what - 8 months? That's not how an NCAA season typically concludes for brands and sponsors. You typically get the athlete at their peak relevance (after 4-5 years of college), and ride their momentum in the World/Olympic Trials season. This year? None of that.


A 2020 World Championships?

In May of 2016, UWW announced a Non-Olympic Weights World Championships in December of that year. From announcement to execution was 7 months. Albeit, that was a much smaller tournament to organize than a full World Championships, but I'm curious to see how that would play out in 2020 and if there are any talks of it. It would also mean a World Team Trials in June/July to determine the team. Will the country be back to normal by then?
Now, I'll admit it's not likely. It's more so just something to think about. For this to work, you'd probably have to push it out as far as you can in 2020, but with the Olympics in 2021 (likely July), it would be a tight turn around for those competing. Don't forget, in 2019, the World Championships were up in September (October the previous year).
If you don't have a 2020 World Championships, and you just have a 2021 Olympics, going back to the brand/business side of things, you now have 6 World/Olympic Champions over 2 years instead of 16. Not good for the athletes or the companies who sponsor them. Less winning often means less relevance. Less relevance is a bad thing for both the athletes and their sponsors.
Interesting times to say the least. If you want more of these articles, let me know. For now, be sure to subscribe to the BASCHAMANIA podcast, where I chat with the absolute best wrestlers in the world and share their stories. Dig into the archives here.
‹ Back