Stories
Weekend Rundown - Presented by ATAC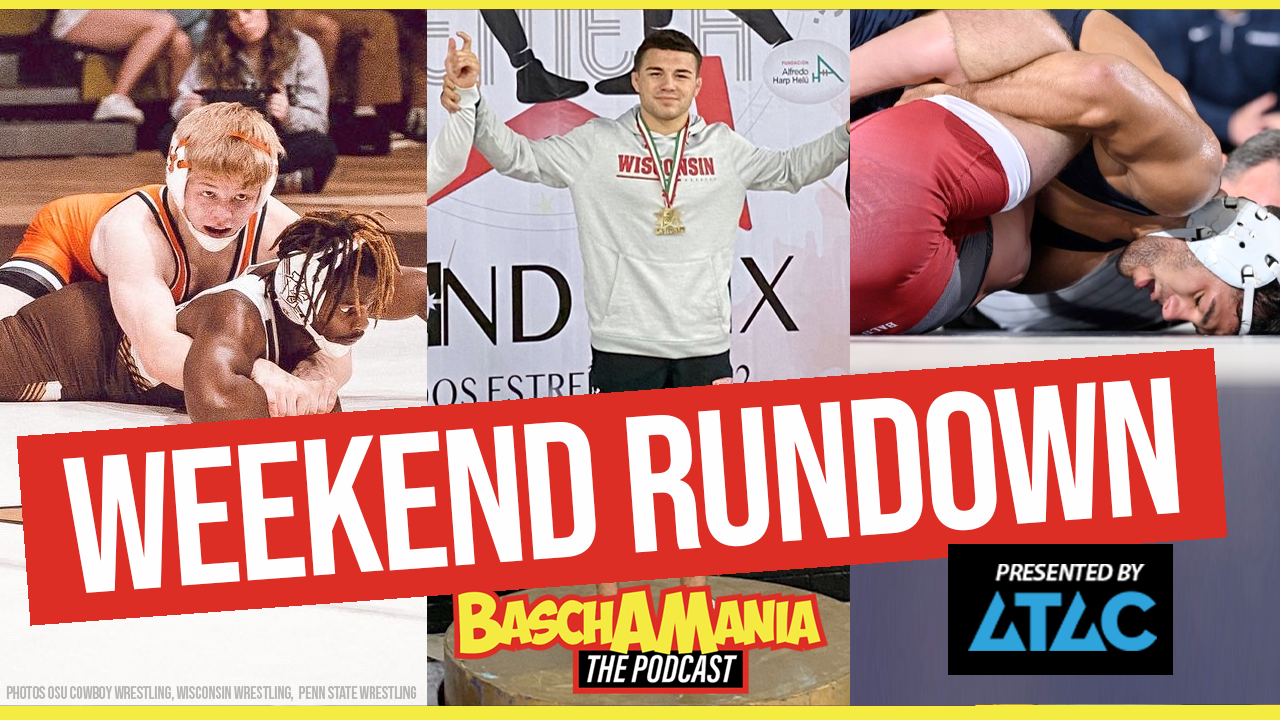 Another great weekend of wrestling in the books!
AFK since Friday? (AFK is away from keyboard for you boomers) Here's some wrestling headlines at all age levels that you might've missed:
??- In a very exciting Virginia Tech/Ohio State dual, true freshman Caleb Henson upset #2 Sammy Sasso of Ohio State in OT 5-3. Catch the full recap match-by-match on FLO here.
- In Penn State's 44-3 whooping of Lock Haven, PSU freshmen put on a show as Alex Facundo and Shayne Van Ness put up 43 points, and a pin. Penn state scored 3 techs, 3 majors and 2 pins, and after Gary Steen gave up a few takedowns in the first match, Penn State went on to score 50 straight takedowns without giving up one. Penn State sent a slew of guys including Levi Haines & Joe Lee to the Bearcat open, you can see a full recap here.
- In the best comeback of the season so far, Oklahoma State's Victor Voinovich was down 8-0 and rallied all the way back to secure a 15-13 win in overtime over Lehigh's Manzona Bryant. Catch the full match on FLO.
- The Iowa Hawkeyes were back in action as they took care of California Baptist winning 42-3, in a dual that saw Brody Teske make his Carver-Hawkeye debut and get the 6-4 win. Hawkeyes Siebrecht, Warner and Cassioppi all got pins while Murin and Kennedy got tech falls. The only loss of the night for the Hawks was at 125, where we did not see Spencer start. Hawkeyes are back in action against on Thursday against Army West Point.
- UFC Fight Pass has successfully entered the wrestling streaming scene, if nothing else for one weekend as they streamed the "Battle at Bragg." After the event, which featured Campbell, UNC, and Michigan, UFC Fight Pass tweeted out "Be by your phones, NCAA programs. We're coming calling!!!" Hopefully this means more wrestling, as these guys did a great job with the stream and were super quick to get highlights out during the matches. Sign up for UFC Fight Pass to catch the whole recap.
- At Journeymen Wrestling's Wranglemania this weekend, Fargo & Super 32 Champs PJ Duke and Ladarion Lockett wrestled in a super match that saw #1 Duke at 138lb bump up to wrestle #1 at 152lb, Lockett, and PJ Duke got the W! - Bill Farrell entries are starting to come together ahead of next weekend's return to the NYAC. NLWC's Nick Lee at 65kg highlighted this weekend's entries, which you can see here. Registration deadline is Tuesday, November 15th.
- In Mexico this weekend, Austin Gomez won the 2022 Mexico All Star Grand Prix at 70kg. He won the title with a 14-4 Tech Fall over Olympian Agustin Destribiats. Gomez is competing in pursuit of making the World Team for Mexico. Gomez will now return to the states and is setup for a match with Yianni D as Wisconsin heads to Cornell for a dual next weekend.
- 5 American Freestyle Wrestlers Cash in on a total of 20k Cash Prizes. Burroughs, Snyder, Gilman win 5k each, Taylor 2k and Dake 3k. Cash prizes were based on UWW's Final Rankings, which despite much confusion, come from Ranking Series Events points, not traditional talent rankings. In Women's Freestyle, the U.S. women earned $23,000 ($3,000 more than the men). See the full Men's Freestyle recap here, and Women's Freestyle recap here.
The weekend rundown is presented by ATAC.
‹ Back