Stories
Weekend Rundown for 12/5 - Presented by ATAC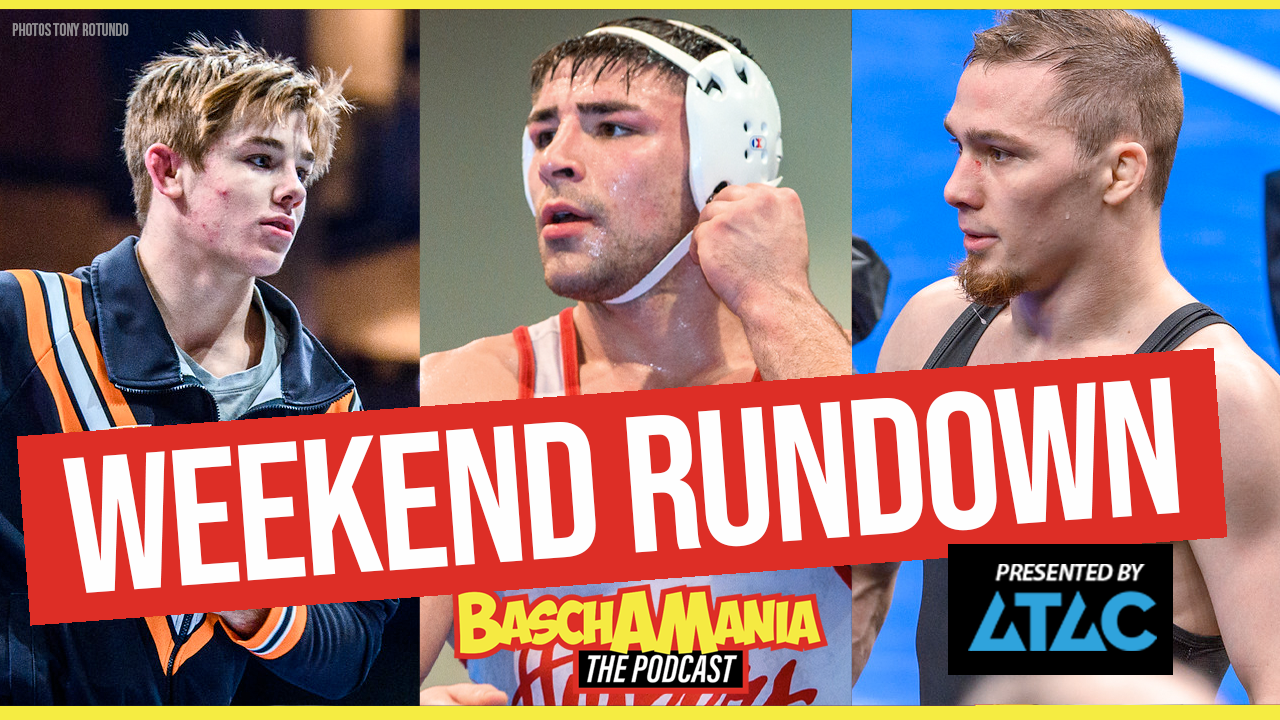 What a weekend of wrestling that surely lived up to all of the hype!
Let's quickly go through the headlines from the weekend:
- Friday Night, Rider's Ethan Laird (#12) upset returning NCAA Champ Max Dean (PSU) with a slightly controversial takedown in OT.
- On Sunday, former teammate Michael Beard (#9) also beat Max Dean in a thrilling 11-9 match in Stabler Arena.
- Speaking of OT takedowns, Nebraska's Mikey Labriola upset NCAA Champ Mekhi Lewis (Virginia Tech) with a overtime takedown of his own, 3-1. Even though the All-Star Classic is technically off the record as an exhibition match, this is now Mekhi's 2nd loss on the year. Penn State's Carter Starocci beat him 2-0 at the All-Star Classic.
- Arizona State freshman Richard Figueroa II ran through the CKLV field and upset Matt Ramos 3-2 in the Finals to take home the coveted title. ASU Senior & former NCAA Finalist Brandon Courtney was sitting out for the weekend, but a potential line-up battle could be before us.
- Other CKLV winners include: VIto Arujau at 133lbs, Brock Hardy at 141, Sammy Sasso at 149, Peyton Robb at 157, Julian Ramirez at 165, Mikey Labriola at 174, Trent Hidlay at 184, Isaac Trumble at 197 and Mason Parris at 285.
- Nebraska took home the CKLV team title, with NC State finishing 2nd, South Dakota State 3rd, Michigan 4th and Northern Iowa 5th. Rounding out the top 10 was Arizona State in 6th, Cornell 7th, Ohio State 8th, Oregon State 9th and Northwestern 10th.
- We didn't get to see the much anticipated match-up between Mason Parris vs Cohlton Schultz (ASU) as Schultz was upset by AJ Nevills in the quarter-finals 5-2.
- On Sunday, Spencer Lee & Real Woods made their (much-needed) season debuts to help Iowa hold off Iowa State 18-5. The dual was on BTN, but some of the bigger matches were archived here on BTN's YouTube. Full results here.
- Yonger Bastida upset Jacob Warner for the 2nd year in a row at the Iowa/Iowa State dual handing Jacob Warner his first *official* loss of the season. Warner also took an exhibition loss to Rocky Elam a few weeks ago at the All-Star Classic.
- Chaos continued at 149lbs as Iowa State Gray Shirt Freshmen Paniro Johnson upset #6 Max Murin, leaving himself the only Top 15 guy at 149 without a loss! We could see Paniro vs #1 Yianni D at the Collegiate Duals in a few weeks, and Paniro also is slated to have duals against #9 Brock Mauller (Missouri) and #5 Kyle Parco (ASU)
- Austin Gomez chalked up another Top 10 win for his resume as he defeated #10 Doug Zapf (Penn) 9-4 at the Garden State Grapple on Sunday
- Despite big upsets from #10 Kaden Gfeller (OKST) over #2 Brayton Lee (MINN) and #21 Carter Young (OKST) over #3 Jake Bergeland (MINN), #10 Minnesota upset #5 Oklahoma State 18-12. 4217 were in attendance, if you're into that sort of thing. Full results here.
- Ivan Ivanov resigned as the General Manager of USA Wrestling's Greco program after just taking the job in April
- This weekend, the World Cup comes to Coralville, Iowa. USA Men's Freestyle will wrestle Mongolia Saturday at 11am EST and the Women's Freestyle team will wrestle China at 12:30pm EST. Later Saturday Night, our Men's Freestyle team will wrestle Georgia at 7pm EST and the Women's Freestyle team will wrestle the All-World team at 8:30pm EST. You can find the full schedule here.
- NCAA Champ Anthony Cassar from Penn State made his successful professional MMA debut Friday night with a 1st round submission.
‹ Back