Stories
Top 10 Matches To Watch This Weekend & Where to Watch Them!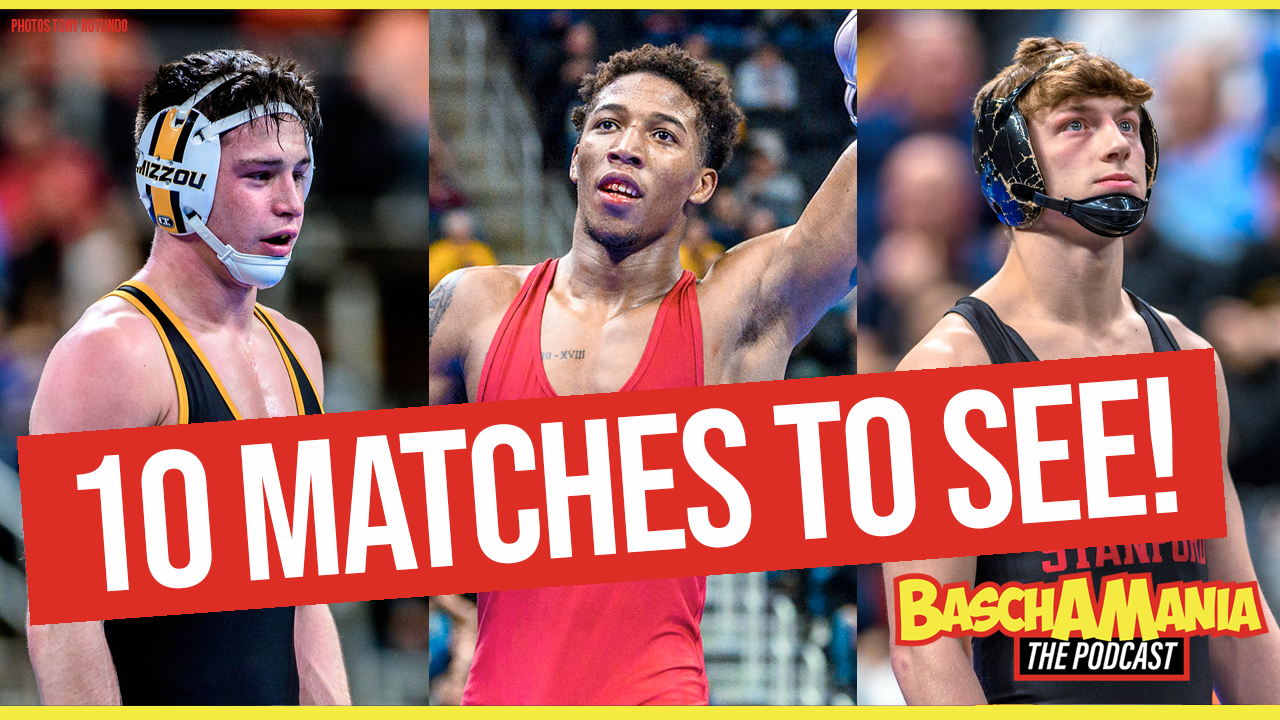 Lots of great wrestling this weekend as we move into the thick of the college wrestling season!

First, quick overview of what's streaming and when and where it's streaming. I'll reiterate this through the below, but for a quick glance:
Midlands - BTN+ (Dec 29 & 30)
Soldier Salute - BTN+ (Dec 29 & 30)
Southern Scuffle - FloWrestling (Jan 1 & 2)

Not college, but also this weekend: Powerade - FloWrestling (Dec 29 & 30)
Now, let's talk about some of the amazing matches we could see this weekend. Important to note the use of could by the way because none of these are dual meets so brackets and finals match-ups, etc. have to line up and before that can even happen, you never know if people are even going to compete or not. Lot of if's, but let's stay positive and look at what we could see at the Scuffle & Midlands this weekend!

#1 Keegan O'Toole vs #3 David Carr - 165 pounds (Southern Scuffle, FloWrestling)
NCAA Champ vs NCAA Champ? Yes please! This is a match-up many have wanted to see and it could actually be the first of a few times we get to see it this year. With Iowa State vs Missouri happening February 15th, both eye'ing to repeat as Big 12 Champions, and of course, NCAA's the final dance of the year, this could become the start of a very-thrilling series.

If rankings hold as seeds, Carr could have a potential showdown with ANOTHER NCAA Champ in Shane Griffith in the Semi-Finals. Carr/Griffith? Sign me up for that, too! Griffith/O'Toole would be a 2022 NCAA Championships rematch.
#4 Dean Hamiti vs #5 Peyton Hall - 165 pounds (Midlands, BTN+)
Speaking of 165, how about a rematch between #4 Dean Hamiti and #5 Peyton Hall?! These guys had a thrilling 10-6 match in the NCAA's consi's back in March where Hamiti had his hand raised with a 10-6 win. What a weekend where we see 4 and 5 potentially here, and 1, 2 and 3 at the Scuffle. Hamiti has picked right back up where he left off last year having a great start to the season with his only blemish a close 7-5 loss to David Carr.

#2 Austin Gomez vs #5 Kyle Parco - 149 pounds (Midlands, BTN+)

149 lbs. What a freaking weight this year. It has been straight pandemonium where we've seen every ranked guy who has stepped on the mat already take a loss! This weekend, we get yet another top 5 match-up and one we have never seen before! #2 Austin Gomez looks to continue to build his impressive season as he takes on #5 Kyle Parco, who looks to rebound after a close 6-2 loss at the CKLV earlier this month to #3 Sammy Sasso, where he also had a 4-1 win over #6 Jonathan Millner. Will chaos continue?
With guys like Yahya Thomas and Doug Zapf in the field, anything can happen and there's no guarantee we see these guys who are likely the 1 and 2 seeds, meet in the final, but will be a good one if it happens!

#2 Pat Glory vs Brandon Courtney or #5 Richard Figueroa- 125 pounds (Midlands, BTN+)
What depth ASU has right now at 125. Brandon Courtney currently isn't in the rankings, as #5 Richard Figueroa has been filling in for him and just won the CKLV while doing so, but he's a previous NCAA finalist.
One of the reasons I really want to see this match is if either one takes out Glory, you gotta think they're more prone to getting the spot? Figgs has looked incredible, but Courtney - again a returning NCAA finalist - is also a senior and this is his last shot. Watching to see some exciting matches and to see this play out to say the least.

#3 Andrew Alirez vs #12 Casey Swiderski - 141 pounds (Southern Scuffle, FloWrestling)
Did you smirk when you read this one? Cause I did. And if you saw the Swiderski vs Woods 3-2 match at Iowa a few weeks ago, you probably did too.
Alirez is #3 in the country right now (#1 on Flo), and Swiderski has come out like a caged dog this year (stealing that moniker from Willie, even though he used it for Patrick Kennedy). This could be one heck of a fun match for the fans.
#3 Paniro Johnson vs Millner, Mauller or Henson - 149 pounds (Southern Scuffle, FloWrestling)
This kid has been so exciting this year. Just last week, we saw Paniro beat PSU Van Ness 3-2 and also lose a close one to #1 Yianni 3-1 in OT. We've also seen Paniro take out Gomez 9-4 in his first match of the year. This weekend, Paniro could see #8 #9 and/or #11 in Jonathan Millner, Brock Mauller and Caleb Henson. Not really looking forward to any of those match-ups more than the other, but all 3 have the potential to be a doozy!

#1 Rocky Elam vs #4 Ethan Laird - 197 pounds (Southern Scuffle, FloWrestling)
I'm not sure how many wrestling fans would have said they were most looking forward to 197 pounds this year, let alone the 197 final at the Scuffle, but golly, what a place we've gotten to!
We've only seen Rocky 4 times this year, if you include his 8-6 "exhibition" win over Jacob Warner at the All-Star Classic and I think most are looking forward to seeing more Rocky! Pair that with potential match-up against a red-hot Ethan Laird who is undefeated on the year, including an OT win over the returning NCAA Champ Max Dean, and you've got fireworks! Can Laird stay undefeated with another monster win? Can Rocky put an exclamation mark on hsi #1 ranking? We could see this at the Scuffle Finals on Monday!
#4 Marcus Coleman vs #7 Hunter Bolan - 184 pounds (Southern Scuffle, FloWrestling)
Hearing more and more about Marcus Coleman over the past week? Well, take out the returning 2x NCAA Champ, and that'll happen. Coming off a huge win over Aaron Brooks at the Collegiate Duals, I'm curious, as I'm sure are most, to see if he carries that momentum through the season and how he stacks up in his next top 10 match-up. He beat Abe Assad earlier in the month, but then turned around and lost to Trey Munoz.
#3 Kendall Coleman vs #4 Jared Franek - 157 pounds (Southern Scuffle, FloWrestling)
Purdue's Kendall Coleman has been wrestling his balls off all year. He's already wrestled 17 matches, only losing 1 and over 50% of his matches have ended with bonus (major, tech or pins). His only loss - a 7-3 decision - coming from #2 Peyton Rob at the CKLV.
I'm not sure if we see #5 Bryce Andonian (Virginia Tech) back on the mat
#4 Michael McGee vs #8 Lucas Byrd - 133 pounds (Midlands, BTN+)
Last but not least, another potential top 10 match-up to be excited for at the Midlands as #4 and #8 meet-up.

What a weekend of wrestling ahead! Did I miss any great matches you're looking forward to? and let me know!
‹ Back