Stories
Buffalo Bills Head Coach Sean McDermott loves wrestling and credits much of his success to the sport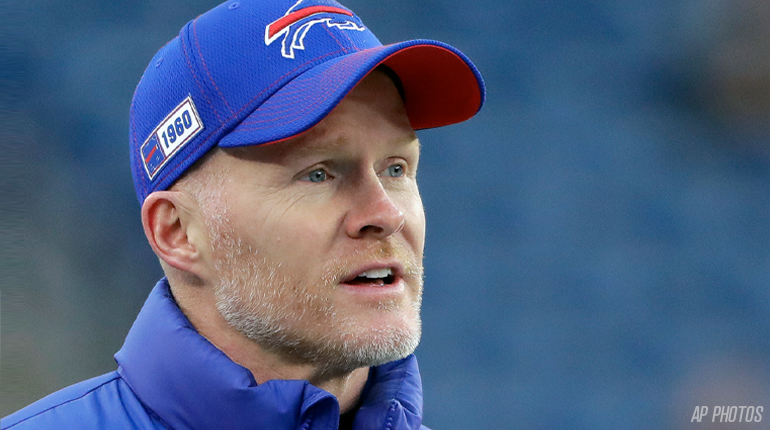 ROCHESTER, NY - Buffalo Bills Head Coach Sean McDermott is no stranger to a wrestling mat, or to the best wrestlers in the world. In fact, it wasn't too long ago that he invited Olympic Gold Medalist Jordan Burroughs to come speak to his team during training camp. McDermott has also spent time with Cael Sanderson and the Penn State wrestling coaching staff.
You don't have to dig too deep to recognize Coach McDermott''s love for wrestling.
The current NFL head coach, who is heading into his fourth season with the Buffalo Bills, was a standout wrestler in high school, earning a 64-0 record during his two final seasons at LaSalle College High School outside of Philadelphia. McDermott became a two-time National Prep Champion while giving up only a single takedown. He loves wrestling so much, he actually has a 10' x 10' mat still in his home.
McDermott recently joined Justin Basch on the Baschamania podcast to talk about his experience as a wrestler and what the sport has taught him.
"You learn so many lessons about life through wrestling — on-the-mat, off-the-mat," said McDermott.
"There's no one to blame but yourself when you don't wrestle well. Those are things that I've carried with me the rest of my life to this point and in my coaching career now."
Listen to McDermott talk about his background in wrestling:



In the summer of 2017, McDermott had Olympic Champion Jordan Burroughs come to training camp to share some words of wisdom with the team.
"This is a guy who's achieved such greatness in his sport, and I know what comes with it," said McDermott about Burrough. "I know enough of what wrestling brings and what it takes to win and to wrestle and win at that level. Those are life skills and traits that our players can learn from."
McDermott's meeting with Cael Sanderson proved to offer very valuable coaching advice. Although six years his elder, McDermott said he thought he absorbed much more of what Sanderson shared with him than the amount of advice he felt he gave.
McDermott said one of the biggest things he walked away with from his time with Cael was "the importance or the value in taking time for yourself...making sure that you're right, as a leader, and you know that's true with our families, it's also true with our teams in this case."
Listen to Coach McDermott share his love for wrestling on the Baschamania podcast.
The BASCHAMANIA podcast is available everywhere podcasts can be heard including Apple Podcasts, Google Podcasts, Spotify, Anchor, YouTube, and Stitcher. Direct links to listen and subscribe can be found by going to BASCHAMANIA.com or searching "BASCHAMANIA."
‹ Back